Downloadcodes 85×55 mm, 4/0-colored printed, 100 pcs.
With these download code inlays, you can easily and digitally make your music available. Each inlay is provided with a running download code. In addition, the front can be printed 4/0-colored with an individual layout. Only the area for the download code should be reserved and the download URL must be integrated in the layout. The download code inlays can be added to the snapboxes in addition to cassettes, inlays and covers. We use 170 g / m² art paper, other types of paper are available on request. For the download codes we work together with our partner Codafile. For more information on creating the code and how to download, see the Codafile Guidelines. You can test the download with the download code "tapemuzik" at http.tapemuzik.codafile.net. Please note our specifications for download codes when creating the layout. Optionally, we also offer a print data check.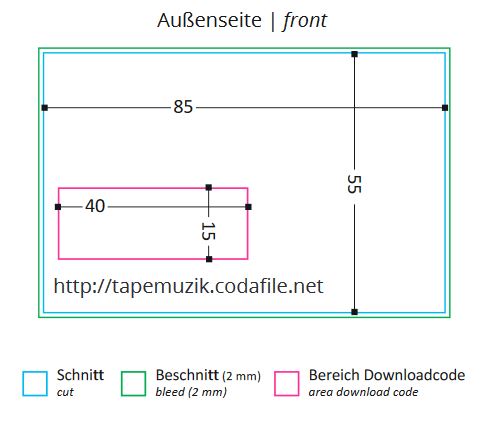 Note: For the delivery of print data for only one page, we assume that the reverse side should remain white.
Dimensions: 85 mm x 55 mm
Qantity: 100 pieces
Delivery Time: approx. 3 weeks