4-colour UV printing for cassettes and boxes
We print your cassette and boxes with the motif of your choice. You can choose between transparent and opaque colours. Almost any design is possible.
For cassettes, the print option can be found in the selection of print colours when configuring the Cassettes. For the boxes, the print option can be found as a separate product in the snapboxes / norelco-boxes category.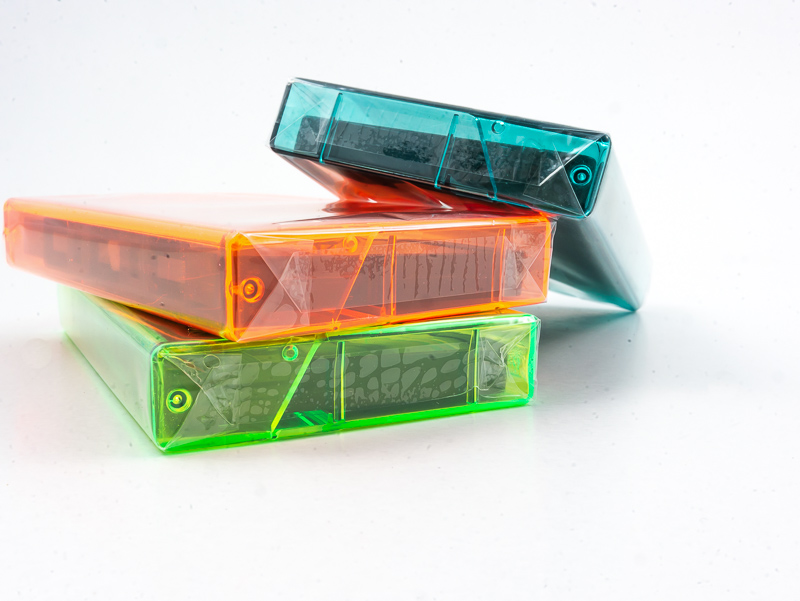 Cellophan wrapping
Shrink wrapping offers various advantages:
The transparent 30 my thick, 100% recyclable cellophane foil protects the cassettes from dirt and scratches during transport or storage.
In addition, the cassettes are tightly sealed by the cellophane packaging so that the cassette, cover and inserts remain unaffected.
This makes it ideal for retail or presentation purposes.
With a minimum order value of 50 €, we also offer this product for cassettes which are not from our shop.
Custom tape length
From 5 minutes to 90 minutes – all cassettes from our assortment
– no matter whether blank or duplicated –
can be equipped with a custom tape length to the minute.
What are protection notches? How does the music get on the tape and the tape into the cassette? How are cassettes printed? Find out everything you need to know about cassettes and production at T.A.P.E. MUZIK.
We love music not only on tape but also on vinyl.
R.A.N.D. MUZIK has been producing records in Leipzig for almost 20 years. And that at the top level of what is technically feasible across the entire manufactory line. They deliver everything up to the finished record from one source, supervised by experienced specialists in their field: Mastering, cutting, electroplating, pressing, quality control, printed matter. R.A.N.D. MUZIK customers receive a discount on their next order from T.A.P.E. MUZIK.